Couture Lab Women Jewelry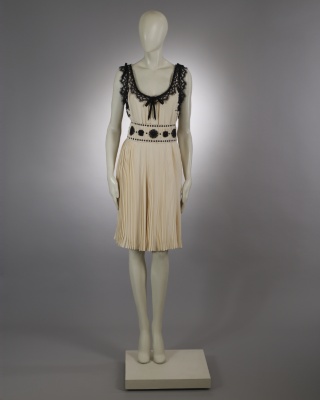 Ivory Dior Couture Dress E2 for CoutureLab Reconditioned Dior couture pleated dress £1,935 €2,515 (approx) $3,870 (approx) Product: CL2103 Size: Medium-Large Flawless in its construction and embellishment, this reconditioned vintage dress is a perfect example of E2's ability to revive forgotten couture. The ivory pleats are soft yet structured, causing a gentle flare at the hem. The top has been embroidered and embellished entirely by hand, with antique lace, silk flowers and studs. The panel belt features the same intricate pleats (zoom to see the detail) and black floral decoration, graduating toward the back and fastening with a silk ribbon. The dress is lined with ivory silk. This is a one-off unique piece and cannot be reordered.
GeneriOnline

Flower Lace Necklace Walid for CoutureLab Crochet beaded neckpiece with 19th century Victorian flower embroidery £440 €572 (approx) $880...

clouise

Venom Necklace BeaValdes for CoutureLab Handmade black crystal and glass drop necklace with satin sash £476 €619 (approx) $953 (approx)...

artiststundra

Antique Cleo Neckpiece Walid for CoutureLab 19th century crochet neckpiece with 1950s diamante flower embroidery £340 €442 (approx) $680...