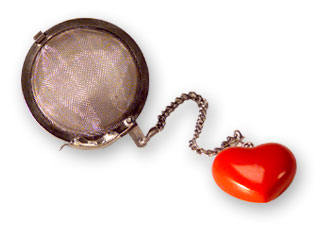 Our Heart Infuser Basket is a perfect way to make tea in any teapot! This wire mesh basket holds enough loose tea to make up to 3 cups of tea at one time. Just fill the infuser half way full to give the tea room to fully infuse for maximum flavor. Dunk the infuser right into your teacup or mug filled with almost boiling hot water and and let it steep to perfection! Dishwasher safe! This is not a toy!
Paisley

bitsandbobbins

Valentine Wishes Looking for a special gift for that special someone? This sweet and simple gift is a perfect, elegant mix. Enjoy Tropical Kiss (chocolate kissed with coconut) our gourmet coffee and Valentine Oreos (white chocolate covered oreos sprinkled with heart candies). It's oh so scrumptious! Boxed with Valentine ribbon and our gift box.

eyecandy

Utilizing the most advanced vacuum technology, our Bistro Vacuum Thermos is more compact and lightweight than ever. This stainless steel vacuum bottle container keeps beverages hot for 8 hours and cold for 12 hours. Our Push'N'Pour stopper design gives you on touch, one hand convenience. Holds 17oz.